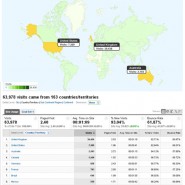 Tweet
If you missed the videos I posted on my Facebook Page at facebook.com/AffiliateMasterclass you can find all three parts here. If you find the time to watch them I am sure you will find them useful.
I had some interesting comments when I first started publishing this info on the importance of adding Click References to your Affiliate Links.
One thing some of you may notice is that I don't always cloak my links… to be honest in my opinion the majority of everyday consumers are not familiar with what is and what isn't an affiliate link, its only us IMers who really know the difference. So you don't have to cloak all your links, just thought I would mention that as I am sure someone is bound to ask..
I am sure you know that getting Good Traffic is fundamental to the whole process of making money only.. but if you don't have systems to check the effectiveness of this traffic you will find it hard to succeed.
Don't forget to post your comments below and if you do find this information useful why not share it with others…. go on….