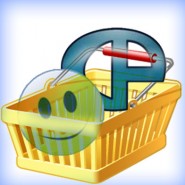 During my earlier years as an Internet Marketer and would be web designer.. although I don't necessarily class myself as a web designer as such, in that it's not something I do for a living. Well that's what I thought?
The thing is if we are creating content which we then publish to the web.. that must mean we are web designers are we not?
OK back to the real purpose of this post.. Way back in the days of dial-up connections when things where much slower on the web and much harder, having a shopping basket on your site was something that people would pay out a fortune to have as a feature on their website. Simply doing it yourself was not going to happen. Unless you studied hard and spent time learning database MSQL PHP in fact back in those days it was CGI Bins in stuff.
However today it is a different story because you can now have a shopping cart with all the features you need simply by pushing a button,… well pushing a button and filling in some boxes.
But wait Mark… I hear you say "why  in the Sam hell do I need a shopping cart" not sure if people say "why in the Sam hell" but I do hear it in the odd film now and again…. OK back to the plot.
In my opinion having an e Commerce facility on your website is a great way of finding out much more about how your visitors interact with your website. And if you do have a physical product to sell then it's a no brain-er. Also even if you are just an Affiliate for a product adding a shopping cart feature to your website can be very effective indeed.
The videos below will hopefully go someway in showing you why I make this claim, not only that you will also see how easy it can now be to add a shopping cart to your website.
These three videos where published on Facebook recently, I may be adding to these but I am sure some of you may find them useful.
Find out how easy it can be to add a full blown e Commerce store to your website.
Lets now take a look at what you get in this Cube Cart Store..
In this video you will see the progress you can make in such a short space of time.
If you have found the information in these videos useful I would love to see you comments below, also if you want to keep up-to date with some of the stuff I am sharing why not join us on Facebook at the Affiliate Masterclas.